EcoLite Plus Rechargeable Receivers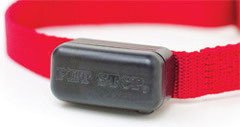 Now  you'll never have to worry about running out of costly batteries. EcoLite's environmentally friendly built-in rechargeable power pack lasts up to 25 years. It's incredibly small and lightweight, weighing just under an ounce. EcoLite's small size makes it the ideal choice for small dogs, yet is effective for even the biggest of breeds.
Optional Nightlight Feature
The EcoLite Plus comes with a charging station. Simply snap the receiver into the station, and in approximately three hours, the receiver is fully charged. The charging station also comes in an optional diagnostic model that checks all functions of the receiver each time it is charged.
For a
For a full list of features, Read More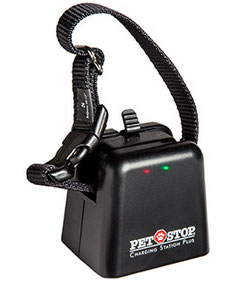 The included Charging Cradle fully charges an EcoLite receiver within 3 hours. An internal LED will let you know when charging is complete. Available in standard or diagnostic versions. Diagnostic Cradle checks the receiver for functionality and will alert you if your EcoLite is in need of service.
Charging Cradle for EcoLite

                     White Light Activator for EcoLite
Activate the white night light on your EcoLite receiver-collar with this activator. Simply press the button on the activator within range of the EcoLite. Once lit, the receiver will blink on and off so you can see your pet's location in the dark. Runs on a single 1.5-Volt coin cell battery. Compatible with all EcoLite

UltraTuff Receiver
UltraTuff Receiver
The only receiver built to take everything a dog can dish out! You count on your dog's fencing system to provide safety for your dog and peace of mind for you. That's why only Pet Stop protects our sensitive electronics with the industry's toughest, most durable case constructed with a special blend of thermoplastic. With twice the wall thickness of lesser fencing systems, Pet Stop provides superior chew resistance, protection from water, dirt and all the tortures that come with hanging around with your dog in the rough and tumble world he lives in!

UltraElite Receiver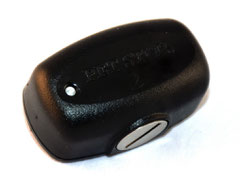 1.3 ounces, your pet will hardly notice the UltraElite Receiver® – unless they move into a restricted zone. We designed the UltraElite with your pet's day-to-day comfort and safety in mind. Each receiver can be individually programmed to meet the specific personality of your pet. We have also built several features into our receivers to help reinforce the initial training your pet receives.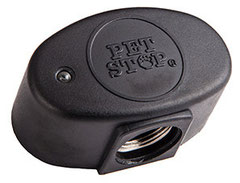 The PCC-200 Receiver is our most economical receiver and comes with a one-year limited lifetime warranty. It packs in all the same features of the higher priced models, except for the GentleSteps™ programming.
For a full list of features, read More

Larger than the UltraElite Receiver®, the UltraMax Receiver® was designed for more determined dogs. Utilizing a highly efficient circuit, the UltraMax features a host of settings, including an adjustable correction that is the most effective in the business in keeping your pets safe and secure.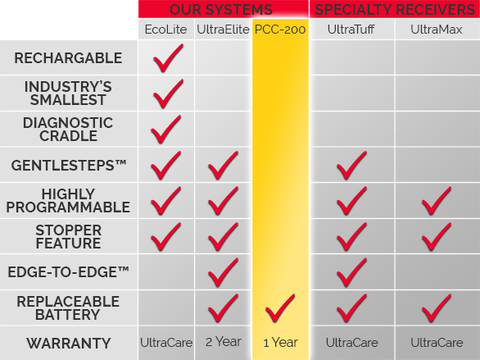 Your Ongoing Responsibilities…
Check system monthly, by walking dog collar to edge of yard and identifying where it beeps.

Replace batteries at 4-6 month intervals, or when battery light flashes.

Make sure collar is snug fitting, high on the neck near the ears and removed daily.

Do not turn down the transmitter.




The two digit reading relates to distance from the wire, not correction level.

Contact Pet Stop any time your system fails to perform properly



Pet Stop of Traverse City and Bow Wow Boundaries LLC provides direct manufacturer warranties only on Pet Stop® brand electronic fence
products and is not affiliated with any pet containment manufacturer other than Pet Stop®.
Ask us about our special trade in pricing for Invisible Fence® or these other brands of electric pet fence systems.

Invisible Fence® is a registered trademark of Invisible Fence Company.  Invisible Fencing® is a registered trademark of Invisible Fence Company.
PetSafe®, Innotek®, Smart Dog®, Invisible Fence® and Pet Guardian® and Radio Fence® are registered trademarks of Radio Systems Corp. 
Dogwatch is a registered trademark of Dog Watch Inc. Dog Guard is a registered trademark of Dog Guard, Inc