OT-300 Outdoor Transmitter
Our digital transmitter is the hub of the system, working in concert with the computerized Pet Stop Smart Receiver collar and the boundary wire. Here are the features designed into the OT 300 Transmitter: Features GentleSteps™ training, ready GentleSteps is a low-stress, proven method that slowly advances the correction level to an optimum setting because […]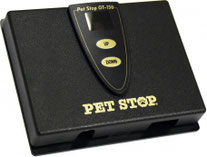 OT-150 Outdoor Transmitter
Our digital transmitter is the hub of the system, working in concert with the computerized Pet Stop Smart Receiver collar and the boundary wire. Here are the features designed into the OT 150 Transmitter: Features GentleSteps™ training, ready GentleSteps is a low-stress, proven method that slowly advances the correction level to an optimum setting because […]

PCC-200 Outdoor Transmitter
Our digital transmitter is the hub of the system, working in concert with the computerized Pet Stop Smart Receiver collar and the boundary wire. Here are the features designed into the OT 200 Transmitter: Features DM Technology Our transmitters incorporate DM Technology (Digital Modulation) into the design – the same type of technology trusted in […]

RoomWizard™ Indoor Transmitter

Many people think of electronic dog fence systems as strictly an outdoor affair. But we have a solution when your pet is indoors as well. Using our same highly customizable system, you can specify those places in your home that are free-range and those that need to be pet-free. Pet Stop offers both a wired and battery operated versions.

PowerWizard™ Outage Protection
PowerWizard™ Outage Protection
When the power goes out, your Pet Stop system stays on. That's because the PowerWizard® incorporates circuity that couples to a battery to supply power to the transmitter for hours up to days, depending on the battery your Dealer selects. Simply a great way to ensure that your system stays operational regardless of the environmental […]

Your Ongoing Responsibilities…
Check system monthly, by walking dog collar to edge of yard and identifying where it beeps.
Replace batteries at 4-6 month intervals, or when battery light flashes.

Make sure collar is snug fitting, high on the neck near the ears and removed daily.

Do not turn down the transmitter.




The two digit reading relates to distance from the wire, not correction level.

Contact Pet Stop any time your system fails to perform properly



Pet Stop of Traverse City and Bow Wow Boundaries LLC provides direct manufacturer warranties only on Pet Stop® brand electronic fence
products and is not affiliated with any pet containment manufacturer other than Pet Stop®.
Ask us about our special trade in pricing for Invisible Fence® or these other brands of electric pet fence systems.

Invisible Fence® is a registered trademark of Invisible Fence Company.  Invisible Fencing® is a registered trademark of Invisible Fence Company.
PetSafe®, Innotek®, Smart Dog®, Invisible Fence® and Pet Guardian® and Radio Fence® are registered trademarks of Radio Systems Corp. 
Dogwatch is a registered trademark of Dog Watch Inc. Dog Guard is a registered trademark of Dog Guard, Inc